Certifications: Catapult For Your Career
Certifications. One word too big to express the plethora of implications and applications attached to it in today's dynamic business conditions. If we were to jump in a time machine and go back a few decades, the word Certification would be redundant in many streams of business. A word that was traditionally associated with doctors, engineers and other professionals is today the postage stamp for the post card of your career, irrespective of the stream of business you are engaged in.
Certifications are an inexpensive definitive proof of your expertise and skills being current and up to the industry standards. You're passing the industry's measurement of your knowledge based on their skill assessments test of the designation you are being certified for.
Think of certifications as an SAT subject test or perhaps an acknowledgement of your active participation in co-curricular activities. While applying for colleges you need more than just grade based merit. You need letter of recommendations, co-curricular participation, thriving essays, etc. Transmuting the same in the business sense would involve certifications. Your employers know you have experience, they know you know the basics and to some extent you might even be on the advanced level of the game. But to validate your understanding, skills, grit, and arduousness in the stream, you need the badge of certification in your resume. To enrich your resume and give it the extra embellishing it needs to stand out from your peers, you need to get certified today. Now if possible.
But don't just take our word for it. Consider these case studies before hopping in the parade: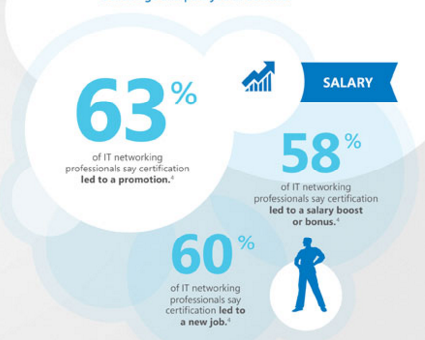 Microsoft Certification Program Satisfaction Study 2012
"I have certifications, and yes they've been a big help to me,"says Jeff Schoonmaker, a Junior Network Administrator in Portland, Ore, who has a Cisco CCNA, a Microsoft CITP (Enterprise Desktop Administrator) and the CompTIA A+.



Research conducted by PayScale.com

According to a survey of 700 network professionals, jointly conducted by Network World and SolarWinds, among the highest-paid IT professionals who had certifications, 58% said a certification led to a salary boost or bonus, 63% said it led to a promotion, and 30% to a new job.
According to the PMI Salary Survey, Eighth Edition, PMPs in the United States on an average earn 17 percent more than their non-credentialed counterparts. Median salaries of PMPs in the United States were reported at $110,000 compared to $91,500 for non-PMP certified project managers.
According to the U.S. Bureau of Labor Statistics (BLS), Financial Planner and Financial Analyst positions are expected to grow by 16% from 2012-2022. According to 2014 BLS data the median annual salary is approximately $78,620. As more people invest their earnings, the demand for analysts who manage the funds and planners who help guide investors, is expected to rise.
If the facts and figures fail to sway your ardent resolve upon certifications then the following checklist might help you decide better. Ask yourself:
Does your job require you to stay updated with the latest industry standards and developments?
Is there a lot of competition in your field of work?
Are you considering switching jobs and want to create the best impression possible?
Are you the person who likes to be the best at what they do?
Are you required to maintain an annual license as a professional to practice?
As we are taught in Management 101, continually evolve, get the first mover advantage, identify early warning and threat signals, and stay updated and alert. Well, it's time to implement those lectures in real life. So get certified to get paid well.